New layout to keep you more focused on your goals
When I was building tabwave, my focus was to make it as a new tab extension. But soon I also made the web version available to use. It was an extension first approach. But now things are changing.
I want to focus on the app more and make extension as a complementary thing. The first step towards this was to make the tabwave app accessible like a standalone app.
So now if you go on tabwave.app and click on Open Tabwave, it will open as a standalone app.
Now tabwave has a new layout which uses the limited space well.The sidebar is compact now.
Your tasks on your new tab
Earlier quick links was the primary tab. Beacause of this I used to forget about my tasks a lot of the times. And the quick links were taking more space without adding much value to my productivity.
So I decided to show tasks on the front page. So every time I open a new tab, I am reminded of my tasks.
A better message after pomodoro sessions
Changed the message in the popup after sessions to a more specific one.
Shortcuts and bookmarks
Your quick links and bookmarks are at one place now. Also you can hust hit enter and the quick link will be added. No need to click with mouse.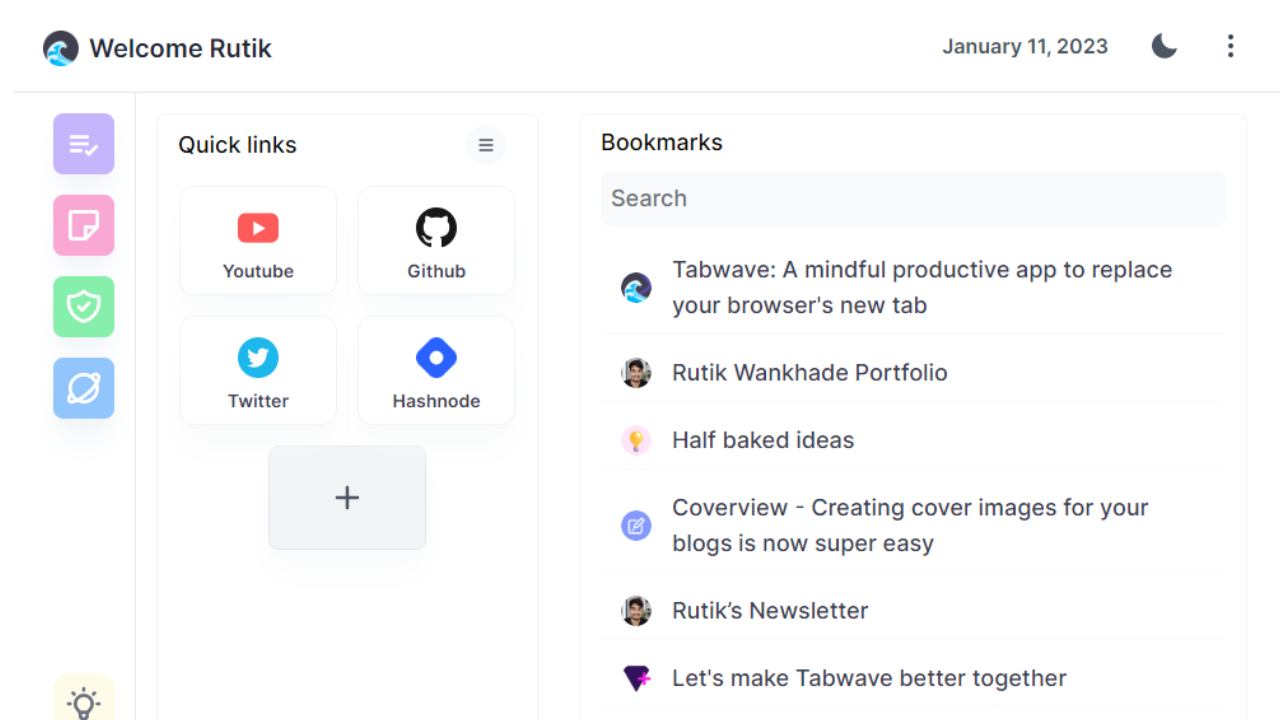 Better notes UI
Sticky notes now are more useful. Every note will take only the amount of space it needs. You can edit/delete your note by clink on the three dots in right corner of the note.
Also dark mode is enhanced and empty states of all the features are improved.
Chat support
You can directly chat with me on [https://tabwave.app]. Click the chat icon in the right bottom corner and talk to me about tabwave, give feedback and feature requets. I will try to reply as quick as i can.
Support Tabwave
Now you can support me by buying me a coffee. If you love tabwave and want to help it keep growing, Here is your chance. And I would really appreciate it if you do.
If not you can still support by rating tabwave on chrome web store. I would really appreciate if you could write a review on chrome web store. That would mean a world to me.